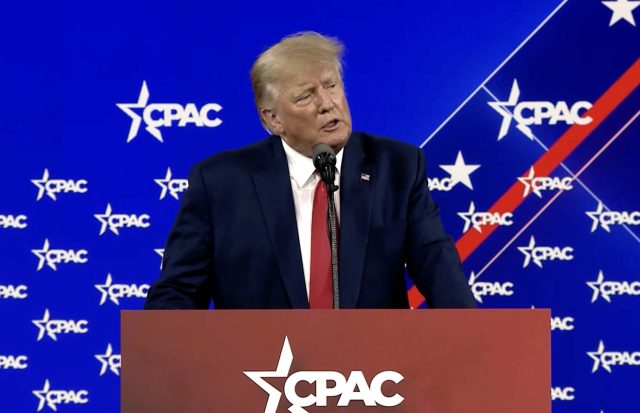 The Conservative Political Action Conference (CPAC), organised by the American Conservative Union (ACU), an organisation founded in 1964, is arguably the most important and thought-provoking event for the conservative movement worldwide. At this year's event, held in the US capital, Washington DC from the 1-4 March, members of the US Republican Party, together with leading conservative party leaders from around the world, including Europe, represented by the European Conservative Party (ECR Party), debated topical policy issues in panels, workshops and various meetings to find common ground for future action.
As expected, the focus of the Conservative Political Action Conference 2023 was none other than former Republican President Donald Trump. It should be noted that this year's CAPC was marked by numerous speeches from some of Donald Trump's biggest supporters in the US. Before Donald Trump's speech, many speakers took to the stage to expound on their Christian principles and reveal their conspiracy theories and anti-transgender rhetoric.
The main annual forum of the American right ended on Saturday by Donald Trump with a trenchant speech. The former Republican president delivered his discontent to those in attendance by saying that only he can save America from disaster, from becoming "a stinking communist nightmare".
In his speech, the American billionaire brought back to the public spotlight the list of conspiracy theories, electoral fraud and American justice that he attributes to the "radical left" and which he displays at every public appearance.
2024 presidential election could be rigged
Referring to next year's presidential election, entrepreneur Mike Lindell expressed concern that it could be rigged.
 "It's not going to be a fair election, but when 90% of the people in this country want Donald Trump, he should win anyway, even in a tight election," Lindell said.
With his speech Trump got rid of the "parallel state" and cancelled Democratic President Joe Biden's policies should he get another chance to become head of the US in the 2024 elections.
"If you send me back to the White House, we will be a free nation. Their reign will end. We are no longer a free country. We no longer have a free press. We no longer have anything free," Donald Trump claimed.
In a speech that lasted an hour and 45 minutes, Donald Trump "demolished" his enemies on the right and left of the American political spectrum and presented himself as the only person capable of restoring America's greatness. Trump once again claimed that he actually won the 2020 presidential election, an election he considers rigged.
"I will shatter the parallel state. I will fire the unelected bureaucrats and the shadow forces – sick – these people are sick"
Donald Trump's speech was attended by Jair Bolsonaro (former president of Brazil) and his son Eduardo Bolsonaro, a federal deputy. The two spoke before the former White House leader, who at the beginning of his speech greeted Bolsonaro and his "friend" Eduardo.
In his speech, the former US president took turns criticising Paul Ryan (former Republican Speaker of the House of Representatives) Karl Rove (former presidential adviser) and Jeb Bush (former governor of Florida). All of them Trump has branded as "freaks, neoconservatives, open borders zealots and morons".
Justice officials criticised by Trump
Even US justice officials have not escaped Donald Trump's attacks. The former Republican president's targets were Manhattan District Attorney Alvi Bragg and Georgia District Attorney Fani Willis.  It is known that DA Bragg's office is investigating payments made by Trump to former adult film actress Stormy Daniels to keep quiet about their alleged sexual relationship.
"This racist prosecutor is being pushed from behind by radical leftist Democrats, the lying media and the Department of Justice to impeach me for a now old story that involved no relationship with Stormy 'Horseface' Daniels. No relationship, no relationship. Where there isn't even any wrongdoing," Donald Trump said.
On the other side prosecutor Fani Willis, also a target of Trump's attacks, launched an investigation after a leaked phone conversation with Trump asked Georgia's secretary of state to "find" extra votes to ensure his victory in the state's presidential race.
"We have the racist district attorney in Atlanta. She's got an illegitimate court that's focused on a perfect phone call that I made," Donald Trump claimed.
The former US president has promised to end US involvement in international wars by claiming he will make the US an economic power by forcing countries that receive US military protection to prioritise purchases of American goods. Trump did not miss the opportunity to ridicule the withdrawal of US military troops from Afghanistan under Biden. According to Trump, the Biden administration is "the most corrupt administration in history"
"Joe Biden is a crook and nothing happens without him," Donald Trump said.
The former president believes he is the only presidential candidate capable of saving the United States from "warmongering" Democrats and "fanatics and imbeciles" in his own Republican Party. Trump has vowed to carry out his legacy if re-elected president.
"American voters are tired of 'entrenched political dynasties in the two parties (Republican and Democrat), rotten special interests, China-loving politicians' and supporters of 'endless foreign wars.' We will finish what we started. We will finish our mission. We will see this fight through to final victory," Donald Trump promised.
Donald Trump warned in his speech at CPAC 2023 that there is a risk of World War III and openly disapproved of US aid to Ukraine. 
"We will have a third world war if something doesn't happen fast. I am the only candidate who can make this promise: I will prevent a third world war. In 2016, I declared: I am your voice. Today I add: I am your warrior voice. I am your justice. And to those wronged and betrayed (I say): I am your vengeance," the former head of state assured those present. 
The Conservative Political Action Conference since its founding in 1964 has become a popular event among conservatives around the world. Beyond political speeches by established leaders, the CAPC is an opportunity for young conservative thinkers. They have the opportunity to present their ideas, debate them and learn from the political experience of the world's leading conservative figures with the aim of creating and shaping future leaders who will spread conservative ideas to the citizens of their countries.
As previously mentioned, the ECR Party delegation to CPAC 2023 included many prominent European conservatives who enjoyed a week full of events, meetings and new friendships with many conservatives who came from around the world to attend the largest conservative conference in America.