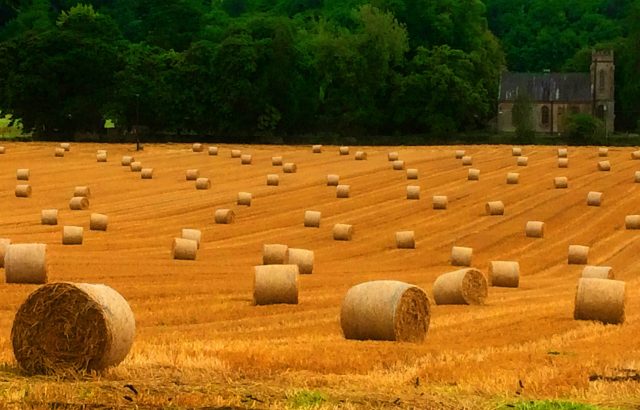 The global food crisis – that the relevant stakeholders have been talking about for a couple of years now – has become a reality. The price of bread, along with that of other food products, is visibly rising. The United Nations is once again raising the alarm about the world food situation. According to the UN Food and Agriculture Organisation (FAO), malnutrition will affect an additional 13 million people in the coming months, mainly in Africa and Asia.
The halt in exports of cereals from the "breadbasket of Europe", as Russia and Ukraine are called, as a result of the war and amid sanctions imposed on the Russian Federation, will, some analysts say, only contribute to the deepening of the already existing food crisis in the wake of the Covid-19 pandemic. 
But climate change is also playing a role, and not an insignificant one, as it is causing an increase in extreme weather events. And especially drought, which, as in 2021, looks set to have devastating effects for countries in certain regions of the globe.  Ukrainian grain is practically not leaving the country, but Russia can still sell grain on the international market despite sanctions. As a result, the amount of grain on the world market has decreased only slightly. The problem is that 50 countries are heavily dependent on Russian or Ukrainian grain, whose imports account for more than 50% of the market in countries like Egypt, Eritrea and Somalia. For them, what is globally just a wave is turning into a tsunami.
Since the start of the war, not a single tonne of grain has left Ukrainian ports
One of the best export logistics organisations in the Black Sea, which used to transport 98% of Ukraine's grain, has been severely disrupted by the armed conflict.
Since the 23rd of February, the day before the Russian invasion of Ukraine, no bulk carriers have left Ukraine's five ports – Odessa, Mykolaiv, Chernomorsk, Pivdenniy and Ochakiv – to supply the world with grains, especially wheat, barley and maize. On top of that, the government in Kiev has decided to put limits on exports of grains, including wheat, maize, but also sunflower oil, poultry and eggs.
According to Ukrainian Ministry of Agriculture data cited in a January 2022 USDA report, Ukraine has already exported around 16.3 million tonnes of wheat, 5.3 million tonnes of barley, 13 million tonnes of maize and 147,000 tonnes of rye this marketing year (July 2021/June 2022). Based on the maize export numbers mentioned above, it is estimated that Ukraine has already exported 12 million tonnes of maize as of October 2021.
However, Ukraine would still have to export. From USDA estimates, Ukraine could still ship about 8 million tonnes of wheat, up to a marketing year total of 24.3 million tonnes, and 23.5 million tonnes of maize, up to 36.5 million tonnes total. Ukraine could also export an estimated 5.8 million tonnes of barley this marketing year. Under these circumstances, the government in Kiev is seeking alternative solutions, including through Romania.  The port of Constanța has taken over some of the ships bound for Ukraine and Moldova since early March. Another solution is land transport via Romania and Poland, which is also much more expensive than sea transport and has become a pressure factor on the borders of these two countries.
The number of people facing hunger is rising
The World Food Crisis Report already revealed last year that the number of people facing hunger globally is on the rise, amid pre-existing wars or conflicts and the Covid-19 pandemic.
The UN's International Fund for Agricultural Development has also warned that the war in Ukraine is leading to rising food prices and a crisis of major cereals in parts of Central Asia, the Middle East and North Africa. This comes at a time when the number of hungry people globally in 2020 was around 155 million, up 20 million from the pre-2020 year. A year ago, in April 2021, food prices had reached their highest level since 2014, according to the UN Food Organization. The calculations are based on a food basket consisting of cereals, oils, vegetables, dairy, meat and sugar. At the time, some economic analysts were warning that the food crisis, expected in the next 10-15 years, was starting early. 
EU officials give assurances that there is no crisis for now. But the EU is a major importer of Ukrainian commodities, including grain, and European farmers are heavily dependent on fertiliser imports from Russia. This vulnerability, along with other underlying costs, such as fertiliser and coal-fired power, pose challenges for farmers and risk a chain of price increases.
Record prices on international markets after Europe's 'breadbasket' cereal exports halted
Following the outbreak of war, the halt in exports of cereals from Russia and Ukraine, which account for 25% of the world's wheat and 16% of maize exports, has led to higher prices on international markets. The – temporary – closure of Ukraine's Black Sea ports – blamed by the Russian armed forces on the risk of mines scattered by Ukrainians along the coast – means the collapse of a major part of the grain export business, whose main beneficiaries are countries in North Africa and the Middle East. Under these conditions, importers will pay almost 40% more per tonne of wheat, traders estimate, according to Reuters.
Most affected areas – Africa and the Middle East (MENA)
The conflict has halted shipping from Ukrainian ports, while financial sanctions have put payments for Russian wheat purchases in doubt, traders and bankers say, adding yet another risk for MENA governments already struggling with import costs, economic crises or conflict.
"Everyone is looking at other markets because it is becoming increasingly impossible to buy from Ukraine or Russia," said one Middle East commodity banker, quoted by Reuters.
Rising global prices make finding alternative sources costly, while options for expanding local production in the MENA region are limited by water shortages and rising input costs. Egypt, one of the world's biggest importers, bought 80% of its wheat from Russia and Ukraine last year.
New fertiliser import prices – another cause of the chain price rises  
Russia and Ukraine are also among the world's biggest exporters of fertilisers, the price of which has already risen by 30 percent in 2021, leading to a pre-war surge in food prices in the context of chain price rises.  After the war, Ukraine – which is a supplier of mineral fertilisers to the region – closed most of its production facilities. The war poses a great danger to fertiliser producers because such factories work with explosive and toxic materials. 
Romanian officials reassure there is no crisis
President Klaus Iohannis said about a month after the outbreak of war in Ukraine, referring to the risk of a food crisis as a result of the conflict in Ukraine, that Romania is in a good agricultural situation and does not think there will be problems, but admitted that there may be situations in the world where supplies will not be at the usual level and it is possible that the sanctions imposed on Russia will also cause movements in food prices.
Economists say we are in the midst of a food crisis
Economists, on the other hand, say we are in the midst of a food crisis. Prof. Mircea Coșea explained, quoted by DW, that Romania has a large agricultural production but no food industry. 
"Whether or not we have sunflower or wheat production, the prices at the shelf will increase because they are imported. And the huge stocks they talk about are not state-owned. They belong to private, mostly foreign owners. No matter how much we grow economically, 7-8%, we will grow in favour of others, as long as we import 70% of our consumption needs," said Prof. Coșea. 
Asked if there is an economic crisis in Romania, he replied: 
"Yes, it is a very special crisis against the background of a profound change in the global model of functioning and development of the world economy", replied Mircea Coșea.
Beyond that, although Ukraine is not on the list of Romania's main trading partners, it is a source for various raw materials needed in various industries, mainly fertilisers. Ukraine is our second largest foreign source of mineral or chemical nitrogen fertilisers, after Bulgaria. And the importance of these imports from the neighbouring country in providing chemical fertilisers for agriculture should be seen in the context of the fact that Azomures, the main local producer, has temporarily closed down due to very high gas prices. 
Romania, Ukraine's grain export competitor, could benefit from a good price 
In the current context, Romania, one of the largest exporters of wheat and maize in the EU and a competitor of Ukraine in the Black Sea area, is in an advantageous position and could theoretically benefit from a good price. Traders are waiting in the wings.
According to the latest data from the European Commission, quoted by Europa Liberă, in the week preceding the outbreak of war in Ukraine (24th of February – 1st of March), Romania reported zero wheat exports to third markets. So far Romania is the second largest European exporter, after France, which has made total deliveries of 5.2 million tonnes.
For maize, we are the market leader, with total exports of 2.8 million tonnes out of an EU total of 3.7 million tonnes. In the first week of the war, Romania exported 565 tonnes of maize, 3.6 times less than France, for example, and seven times less than Poland. But in the last weeks of summer, soil drought is affecting tens of thousands of hectares in Romania.  Wheat that has been almost fully harvested is yielding up to 35% less per hectare, maize is almost totally compromised, and sunflowers have equally poor prospects.  This summer the Danube dried up so much that the pylons of the Friendship Bridge at Calafat, linking Romania to Bulgaria, are fully visible from the base and one of them is already completely dry. 
European Union estimates earlier this month were that Romania's wheat production would be 20% lower than the average of the last five years, the biggest drop in the entire European Union, where figures were 4%.
Specifically, Romania is expected to record an average production per hectare of 4.2 tonnes compared to an average of 5.7 tonnes over the last five years. Farmers, those who have managed to get the wheat crop to harvest, say yields are even 35% lower than last year, reports Free Europe. 
"The solution for the future is irrigation. The government should have a strategy that it can implement quickly and start infrastructure work on the Siret-Bărăgan canal," Gelu Scutaru told the radio station.