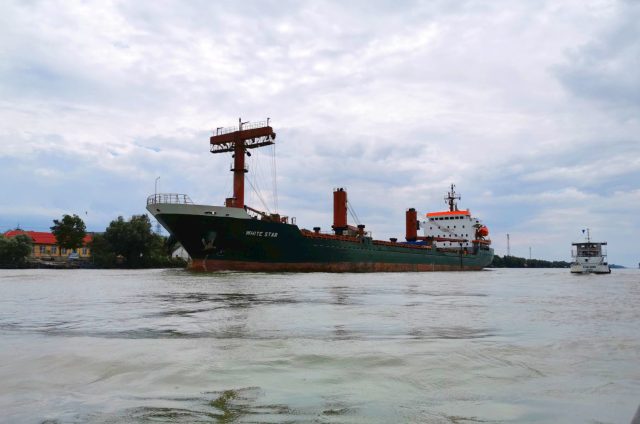 Russia will face "serious consequences" if it uses chemical, biological or nuclear weapons, and all those who support it will face severe costs – that is the warning from Japan by the foreign ministers of the G7, the so-called Group of the world's highly industrialised countries. The heads of diplomacy of the world's seven powers – Britain, Canada, Germany, Italy, France, Japan and the US – have also sent a message to Beijing, warning against its military ambitions in the South China Sea, specifically over Taiwan. The official joint document, sent after the meeting, refers to the intensification of sanctions on Russia and its possible allies, at a time when, only days before, the US imposed a new tranche and there is talk in Europe of a possible 11th sanctions package.
The warning from the G7 in Kuraizawa, "Japan's Alps", comes as the Kremlin leader last month spoke of the possibility of resorting to so-called shorter-range tactical nuclear weapons.
"Russia's irresponsible nuclear rhetoric and threat to deploy nuclear weapons in Belarus are unacceptable. Any use of chemical, biological or nuclear weapons by Russia would have serious consequences," reads the G7 communiqué issued after the 18th of April meeting.

"We remain committed to intensifying sanctions against Russia and to coordinating and fully implementing them. We reiterate our call on third parties to cease assistance to Russia's war or face severe costs," the G7 document added.
The G7 also strongly condemns Russia's "widespread use of manipulation and disinformation" to gain support for its war against Ukraine. As for China, it stresses that maintaining peace and stability in Taiwan is "indispensable". The G7 foreign ministers stressed that their position on Taiwan remains unchanged, despite the rumblings created after recent statements by French President Emmanuel Macron who, during a visit to China in early April, told the press that Europe should not get caught up in "crises that would not be its own", referring to the small island in the South China Sea.
Russia's Deputy Security Council President Dmitry Medvedev has hit back at the West, saying the West's stance on nuclear weapons is "endlessly hypocritical". Responding to the Group of Seven (G7) statement, Medvedev said Western countries were in fact "hinting at a future nuclear conflict between our country [Russia] and NATO".
According to Baha News, quoted by ProTv, Medvedev also condemned the United States for committing a crime by using nuclear weapons against Japan, which US Secretary of State Antony Blinken did not mention during his visit to Hiroshima. For its part, China accuses the G7 foreign ministers of meddling in its domestic politics and of "slandering" and "smearing" it, reports AFP.
"The G7 foreign ministers' meeting took no account whatsoever of either China's solemn position or the objective facts," a Chinese foreign ministry spokesman, Wang Wenbin, told reporters. "It (the G7 meeting) interfered in China's internal affairs," Beijing accused.
China is already one of the main "beneficiaries" of the latest sanctions imposed by the US in the context of the Russian-Ukrainian war.
US announces new sanctions ahead of G7 foreign ministers' meeting; China – among recipients
The United States adopted measures in the week before the G7 foreign ministers' meeting against more than 120 individuals and entities in more than 20 countries who are allegedly helping Russia circumvent sanctions adopted against it over military aggression in Ukraine.
The announcement of the new sanctions was made by secretary of state Antony Blinken. In a separate statement, the US Treasury said it had imposed sanctions against Russian financial intermediaries and against individual and corporate evaders in several countries, including Turkey, the United Arab Emirates and China, Reuters reported, quoted by Agerpres. 
One of the companies on the new sanctions list is China's HEAD Aerospace Technology Co, which has been blacklisted by the US, accused of providing Russian paramilitary group Wagner with satellite images of locations in Ukraine.  Another Chinese company sanctioned by the US is King-Pai Technology HK Co, Ltd, which acts as a supplier to several companies in Russia's military-industrial complex. Also on the list are a number of Russian companies such as Megafon, one of Russia's big four telecom operators, an area on which Washington has so far not applied sanctions, Reuters notes.
Five other entities and four companies with links to Russia's state nuclear company Rosatom are on the new list, but not Rosatom. The new round of sanctions also targets three executives of the International Investment Bank (IIB), a Budapest-based entity controlled by Russia, including a Hungarian banker. 
"IIB executives coordinated with Russian Federation officials on IIB business even after the Russian invasion of Ukraine," the US Treasury reasoned.
In motivating the new measures, taken ahead of the meeting in Japan, the White House official referred to "continuing G7 commitments".
"The United States will continue to take action against Russia and those who support its war in Ukraine, including through continued implementation of G7 commitments to impose severe consequences on third state actors who support Russia's war in Ukraine," Blinken stressed.
Another state targeted by US criticism is Brazil.
The White House recently strongly criticised the country after its president, Luiz Inacio Lula da Silva, accused the US and Europe of prolonging the war in Ukraine after a tour of the United Arab Emirates and China. 
"Europe and the US continue to contribute to the continuation of the war. At a time when they have to sit around the table and say: Enough is enough", Lula da Silva said in the capital of the Arab Emirates.
In China, Lula da Silva, who met President Xi Jinping, accused Washington of "encouraging the war" in Ukraine. In response, a White House official said, quoted by AFP and taken up by Agerpres, that "in this specific case, Brazil is echoing Russian and Chinese propaganda without regard to the facts", on Sunday at a press conference  Unlike several Western powers, Brazil has never imposed financial sanctions on Russia, nor has it agreed to supply munitions to Kiev, and is trying to position itself, like China, as a mediator.
EU has not yet announced a new package of measures; some member countries are calling for them 
The European Union has not yet announced any official position on possible new sanctions on Russia and its backers despite calls from several members. A senior European official declined, just before the G7 meeting, to be asked by Reuters news agency to give any estimate of the possible timing of any new sanctions. This comes against a backdrop of Poland this month submitting a proposal for a new set of sanctions against Russia over its ongoing war against Ukraine, which include a ban on Russian oil and diamond imports, according to a document seen by Reuters on Tuesday and cited by Agerpres, according to Reuters. The written proposal, which a diplomatic source said was submitted to the European Commission, the EU's executive body, is the opening signal for what would be long and complex negotiations among the bloc's 27 member countries. European Commission President Ursula von der Leyen said earlier that an 11th round of sanctions would focus on tackling the circumvention of existing sanctions, in particular for spare parts and equipment Russia deploys on the battlefield against Ukraine.
Warsaw's proposal would stop Russian oil imports from reaching Germany via the northern branch of the Drujba pipeline. It would also end imports of diamonds and gas from Russia, including liquefied natural gas, and halt cooperation on nuclear energy. Germany and Lithuania are also in favour of nuclear energy sanctions, with a period of leniency for countries such as Hungary and France that cooperate with Russia in this area. Hungary, which has announced that it has agreed to amend its contract with Russia's Rosatom to expand the Paks nuclear power plant, has so far strongly opposed any sanctions on Russian nuclear energy. Belgium, home to the world's largest diamond trading centre in Antwerp, has so far successfully lobbied against a ban on Russian diamond imports. Poland positions itself within the EU as a strong supporter of Kiev and against Russian aggression, but, worried that it might upset Polish farmers ahead of this year's national elections, Warsaw has dealt Ukraine a hard blow by banning imports of Ukrainian grain. Hungary and Slovakia have joined in, and ambassadors from all 27 EU countries are due to discuss the issue in Brussels. The European Union has imposed unprecedented sanctions on Russia in response to the unprovoked and unjustified invasion of Ukraine on the 24th of February 2022, including targeted restrictive measures (individual sanctions), economic sanctions and visa measures.
Brussels proposed a new package of sanctions against Moscow on the 15th of February, targeting dual-use technologies for military purposes.
These new sanctions – the 10th package of restrictions imposed by the EU on Russia – have been dubbed by EC chief Ursula von der Leyen as the most far-reaching sanctions package ever adopted and also target Iran for supplying drones used by the Russian military in Ukraine. European Commission President Ursula von der Leyen indicated at the time that the EU "wants to sanction Iranian entities, especially those with connections to Iran's Revolutionary Guard. Seven Iranian entities are also targeted, all representing manufacturers of drones used by Russia to strike targets in Ukraine. The package did not include additional measures on Russia's oil and gas sector, with the EC president stressing that previous ones have had a significant impact.
"Russia's revenues from gas sales to Europe have fallen by two thirds. The oil price cap means that the Russians are losing profits worth €160 million every day," she said. "The Kremlin is having to sell gold reserves to cover the gaps left by the lack of oil revenues. Putin's attempt to blackmail Europe using the energy war has been a dismal failure".
To stop sanctions being evaded, the EU also wants to impose restrictions on a Dubai-based shipping company suspected of helping Russia fight sanctions on oil exports. The company is believed to have bought several Russian tankers that were no longer allowed to carry oil because of European and international sanctions on Russian-owned entities. Under their new administration, the tankers can once again transport oil by sea.
However, the ban on the export of European industrial products to Russia has been extended to new dual-use (civil and military) goods such as electronic components, specialised vehicles, mechanical parts, spare parts for aircraft engines, antennas, cranes, rare earth raw materials, electronic circuits and thermal imaging cameras. Russia's annual imports of such products total around €11 billion.
So far, the US and the EU have adopted sanctions against several hundred individuals and entities in Russia and elsewhere.