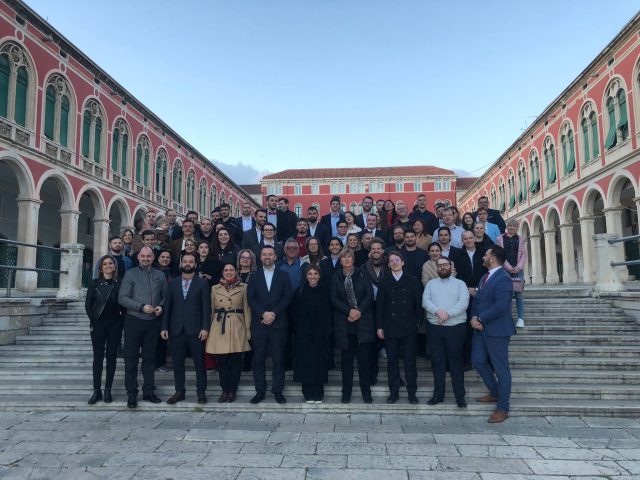 The European Culture Weekend organized by the European Conservatives and Reformists Party took place last weekend in Split, Croatia. Three days of debates and speeches about how to "accelerate the Conservative agenda for prosperity and freedom".
A weekend that saw politicians from many parts of Europe: Italy, Austria, Romania, Ireland, Iceland, Belgium, Bulgaria, Spain, and, of course, Croatia, together with an audience counting over a hundred registered participants from all over the European Countries.
An agenda spread over three days that, with its panels and Q&A sessions, has constantly and actively involved the public. On Friday, we talked about the "Croatia and the Euro, the first effects of the currency change" with Marko Milanovic Litre, MP representing the Croatian Sovereignists Party, Barbara Kolm, Deputy Chairwoman of the General Council of the Austrian Central Bank, Dr. Neven Vidaković, Finance Professor at Zagreb University; followed by a panel entitled "Dealing with the 'Woke' ideology" where intervened Ladislav Ilcic, member of the European Parliament from Croatian Sovereignists, Adela Mirza, president of the Romanian Party Alternativa Dreapta and Ratko Martinovic, journalist and political commentator.
The Saturday started with the video message of the Secretary General of the ECR Antonio Giordano and continued with a lecture by Professor Hannes Gissurarson on the meaning of being a European Conservative-Liberal. The first panel of the day developed on the same topic, "Classical and Liberal Conservatism, a way towards human prosperity", and it was moderated by Marko Milanovic Litre, with speakers Gary Kavanagh (President of the Edmund Burke Institute), Barbara Kolm and, again, Hannes Gissurarson, professor of political science at the University of Iceland.
The day continued with two other meetings, "EU and National Competencies: Defining the conservative line" and "The Functioning of EU Institutions and the evolving balance of Powers".
The first one was moderated by the head of projects of the ECR Party Benjamin Pogorel and saw the intervention of MP Ylenja Lucaselli, deputy of Fratelli d'Italia, and group leader in the Budget Commission of the Chamber of Deputies, Adela Mirza, Ján Oravec, former secretary of state of the Ministry of Economy of the Slovak Republic and member of the parliament from Freedom and Solidarity Party; the second one was attended by MEP Carlo Fidanza, representing Fratelli d'Italia, Angel Dzhambazki, MEP from Bulgaria representing IMRO, and Ruza Tomašić, former MEP from Croatia.
The event ended with a "Behind the Scene about the European Bubble" with speakers who work daily in the world of politics at national and international levels: Robert Tyler, advisor policy of New Direction, Carles Iserte, advisor for Vox in the European Parliament, and Maicol Pizzicotti Busilacchi, international Secretary of Fratelli d'Italia's youth wing.
A weekend made of political discussions but also by moments of cultural insighst with the guided tour of the City of Trogir and Split. Two places deeply suited to tourism and culture thanks to their history that has its roots in the centuries.