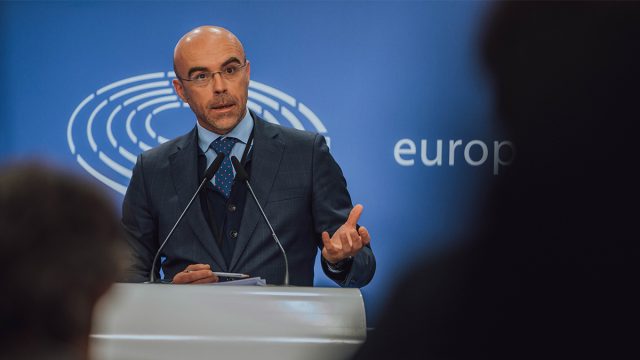 In a letter dated 20 February 2023, ECR Party Vice President Jorge Buxadé Villalba has addressed Mrs. Von der Leyen to manifest his concern about the relationship between the European Commission and Spain's current socialist-communist Government.
The purpose of the letter is not encouraging the Commission to interfere with the government of Spain, since the Member States are, as the ECR Party would typically claim, the owners of the Treaties.
However, as an ECR Member of the European Parliament, Mr. Buxadé considers it important to remind his addressee that Brussels' policies as implemented by her team are harming the interest of the Spanish nation and its citizens.
The first issue raised is unemployment, the highest in the Union for the first time in Spain's history.  So far, Commissioner Gentiloni has failed to give a convincing answer in terms of a sound economic strategy to solve this utmost priority, perhaps due to a leftwing alignment with his idelogical comrades in Madrid.
Commissioner Schmit, of a similar political trend, has demonstrated the same lack of solutions, having excused himself before Mr. Buxadé in the first quarter of last year on the alleged basis that the Iberian country was among the hardest hit by the financial crisis – back fifteen years earlier!
The recent labour reform implemented by Prime Minister Pedro Sanchez is equally criticised by the ECR representative.  In particular, he considers a pantomime that one would call "discontinuous permanent workers" those who, actually, should count under unemployment figures.
"Camouflaging the reality of Spain's economy, purloining stable employment from workers and creating a gross accounting rinse cannot be qualified as an important step forward, as Mr. Schmit does", writes Buxadé to Von der Leyen.
The VOX politician adds that condemning many young compatriots to flee their fatherland in order to seek for their livelihood is a clear downside of the single market in the way that it is practically understood by the Union authorities.
He also denounces the recent Directive on Minimum Wages, which many ECR delegations have opposed and is currently under scrutiny by the Court of Justice of the European Union, thanks to judicial action undertaken by both Denmark and Sweden, where ECR Swedish Democrats are sustaining the executive.
The Commission's economic policy, which puts 22 % of Europeans at risk of poverty and social exclusion, also comes under Buxadé's criticism. Here, Commissioner Schmit has recognised 'concern' for the years to come.
Furthermore, ECR Vice President suspects that trade defence against unfair competition is weak. Commissioner Dombrovskis EUR 5 million annual recovered amount looks pyrrhic compared to the structure of European bureaucrats who supposedly shield the Union against China, Russia and the like.
In conclusion, Mr. Buxadé requests the European Commission President to terminate her honeymoon with the Spanish socialists and communists and to work in a more critical spirit, offering his collaboration for such a correcting course during this last part of the legislature.