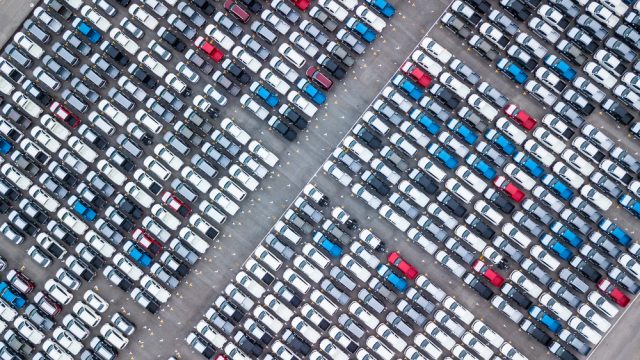 The debate on the impact of new pollution standards for cars continues across Europe, with eight member states recently publicly opposing the introduction of Euro 7 from 2025.  These eight countries – including Romania – argue that the adoption of Euro 7 will not have the expected consequences in terms of reducing pollution and, moreover, will create disastrous economic effects in the economies of EU member states. This opposition comes in the context of the pressure from car manufacturers to postpone the application of the new regulations in the field in recent months. And this while, on the other hand, European authorities and health NGOs argue that Euro 7 will save lives.
The Euro standards are part of the EU's plans to cut exhaust gases and pollutants from cars on the road across Europe. Euro 7 will be the newest pollution standard and is part of the complex and ambitious European project "Fit For 55", which builds on the European Environmental Pact, which is about ensuring a healthier environment and fighting climate change. Its most important point was announced at the end of 2018: that Europe should become the first zero-carbon continent by 2050. Around three decades should be enough to achieve this goal, but the transition to this ambitious status cannot happen abruptly, but in stages.  In this context, one step was taken by the European Commission last year, when it presented its proposals for new pollution standards for cars, known as Euro 7, to come into force from 2025. Therefore, the EU reached a final agreement to ban the sale of cars with diesel and petrol engines from 2035. In theory, the EU has 15 years to ensure that most cars on the road in 2050 are electric.
Germany, European leader in car production
However, the initiative was amended this year, in March, by Germany, Europe's leading car manufacturer, after months of negotiations. At its insistence, internal combustion engines could still be produced after 2035, using zero-emission synthetic fuels (e-fuels). But even this derogation does not seem to be enough for carmakers, who consider the use of e-fuels almost impossible in terms of production and cost, and that talk of them is "useless noise", as the head of a well-known German brand, Thomas Schafer, put it.
Hence, the Euro 7 standard aims to make the transition to electric cars or cars with thermal engines running on environmentally friendly fuel by 2035. Under the commission's plans, Euro 7 will improve on a number of aspects of the Euro 6 standard – adopted in 2014 (and improved over the past decade through three successive amendments) – such as accepted emissions limits or how pollution tests are carried out. 
Currently, the Euro 6 standard requires an emission limit of 60 mg/km for petrol engines and 80 mg/km for diesel engines. The new Euro 7 standard comes with a maximum limit of 60 mg/km, regardless of whether the engine is diesel or petrol. With this new limit, the EU expects total nitrogen oxide emissions to fall by 35% in 2035 compared to the Euro 6 standard introduced in 2014.
Euro 7 does not bring any change in this respect, as the emission limit remains similar to the one originally introduced with the adoption of Euro 5 and retained in Euro 6: 4.5 mg per km.  Instead, Euro 7 will for the first time include a number of limits for substances that were not regulated before. These include a wider range of nitrogen oxides – including nitrous oxide – but also ammonia, methane, hydrocarbons or formaldehyde.
Many carmakers have expressed dissatisfaction with the rules, which they say will significantly increase the prices of even very small cars with thermal engines. Some have argued that unless Euro 7 is delayed for at least a year, they will have to stop production of some models, leading to massive layoffs in the industry. 
Car industry representatives also argue that Euro 7 rules will force them to invest in combustion engine technology when they have already earmarked tens of billions of euros for zero-emission electric vehicles. Car manufacturers, through ACEA, complain of "lack of time to develop their new technologies". They say the implementation date of the 1st of July 2025 is premature. It doesn't give them the opportunity to test and develop their vehicles to meet safety standards.
In its recently stated official position, the European Automobile Manufacturers' Association says Euro 7 rules will bring only a marginal improvement over current standards, while raising new car prices by an average of €2,000 ($2,150), forcing many people to buy older polluting models instead of new vehicles.
In this context, ACEA has called for more financial support, including European subsidies, for electric vehicles.
"Today, car manufacturers in Europe face an asymmetric challenge. We are no longer at the head of the technology race," said Luca de Meo, ACEA president and CEO of Renault.

"At the same time, as subsidies in the EU for zero-emission electric vehicles are declining, we are seeing massive support from our competitors in China and the US," the ACEA official added.
ACEA Director General Sigrid de Vries, for her part, said the Euro 7 bill is "a prime example" of regulations that will increase uncertainty as the industry struggles with "key investments and decisions".
At the same time, the regulations will not bring the environmental benefits they were intended for," de Vries added. Moreover, some voices have warned that the new rules put Europe's car industry and investment in the sector at risk, hurting the economies of some countries by threatening thousands of jobs. 
7% of all available jobs in Europe are in the car industry
According to ACEA, 13 million Europeans work in the automotive industry, representing 7% of all jobs available in Europe
"In their current form, the Euro 7 pollution standards are putting the car industry across Europe at risk. At the same time, they pose a risk to jobs," warned Czech transport minister Martin Kupka.
In fact, the Czech Republic is reportedly leading a coalition of eight countries that have signed an unofficial document accusing the European Commission of burdening carmakers with additional obligations, Euronews reported. With negotiations still ongoing on the issue, the eight EU countries, including Romania, are calling for a postponement of Euro 7 formalisation. The reason given by the opponents is that the new rules would be a distraction from the goal of banning vehicles with combustion engines, according to Bloomberg.
The eight countries – France, Italy, Bulgaria, Czechia, Hungary, Poland, Romania and Slovakia – say they oppose the new rules because they could divert crucial investment needed to decarbonise the car sector.
"We oppose new rules on tailpipe emissions, including new testing requirements and new emissions limits for cars and vans, because these new rules would steer industry investment away from achieving a deal towards net zero emissions," Bloomberg reported, citing the eight countries' joint document.
The EU's Euro 7 proposals are "clearly wrong" and do nothing to help the environment
Earlier, this position was expressed by Italian Transport Minister Matteo Salvini. According to him, the EU's Euro 7 proposals are "clearly wrong" and do not even help the environment in any way, Salvini said, quoted by Agerpres.
"Italy, together with France, Czechia, Romania, Portugal, Slovakia, Bulgaria, Poland and Hungary, have the numbers to block this leap in the dark," the Italian minister told a car industry conference in Verona. 

"Now we are a blocking minority, we want to become a majority," Salvini added.
On the other side, European health authorities and NGOs in the field argue that the implementation of Euro 7 standards is necessary and that they are designed to prevent illness and "save lives".
"Strong Euro 7 legislation could prevent hundreds of thousands of deaths a year," says Cale Lawlor, director of the non-governmental organisation European Public Health Alliance.
European studies estimate that environmental and occupational risks account for about 10% of cancer cases in Europe. 
The European Environment Agency's latest report on air quality found that 97% of the EU's urban population is exposed to higher levels of fine particle pollution than allowed by World Health Organisation recommendations. The report states that 238 000 premature deaths are attributable to this pollution. The agency said much of this pollution comes from energy production and industry, with road transport responsible for about 10% of particulate pollution. This causes lung diseases such as asthma and chronic obstructive pulmonary disease. It can also trigger acute attacks of both diseases. A team led by Barbara Hoffmann, professor of environmental epidemiology at Heinrich Heine University in Düsseldorf, conducted a study in which they found that people living near busy roads are 50% more likely to develop coronary heart disease than people living further away. Short episodes of exposure to air pollution can also trigger heart attacks.