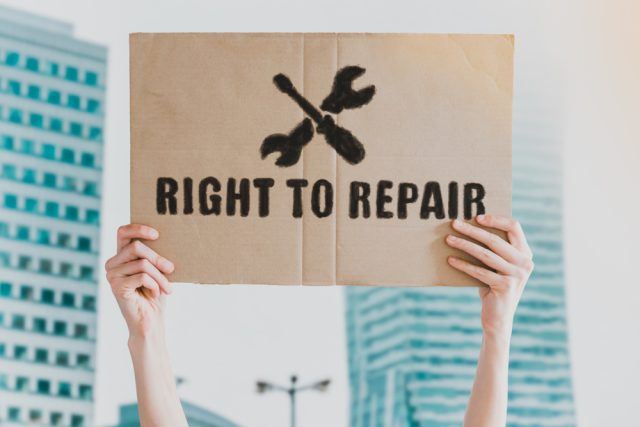 The climate and environmental emergency is priority on the agenda of the European Union, which is trying to adopt solutions to face it. Among these, not without difficulty and complexity from the point of view of implementation, there are some actions that are contained in the New Green Deal and in the New Green Industrial Plan. We can remeber the measures that would like to ban the production of gasoline-powered vehicles from 2035 to reduce emissions, and the well-known Green House Directive, which would certainly improve housing, although with a very high cost to European citizens.
In the view of making Europe the first carbon-neutral continent by 2050 and in order to contribute to the realization of a sustainable and green society, the European Commission adopted a new proposal on March 22 on common standards that promote the repair of goods. This proposal intends to achieve those goals contained in the European Green Deal, and at the same time to help consumers save money and reduce waste generation.
In particular, with regard to the issue of waste, it should be remembered that every person, even unknowingly, produces high amounts of it. In fact, according to the latest Eurostat data each European citizen on average produces as much as 505 kg of waste, especially in the countries of Denmark and Luxembourg. This amount is much higher than previously recorded in the pre-covid era.
In addition to this, recent data from Eurobarometer surveys show that 77 percent of European citizens feel responsible and seek action to limit climate change.
Discarded products are often functional goods that could be repaired but are thrown away prematurely. Thus within the European Union as a whole, 35 million tons of waste, 30 million tons of resources and 261 million tons of greenhouse gas emissions are generated annually in the EU.
Waste can be recycled or it can go to landfill. But in order for items to be recycled, an effecctive and efficient measure must be taken.
In order to realize a greener and more sustainable Europe, it is therefore necessary to take action in this regard, conceiving of waste as a real asset and, in addition to this, trying by all means to limit as far as possible having to throw away defective products.
In recent years, however, people have often preferred to buy a new product directly rather than repair it. In this sense, it has been the consumers themselves who have had no incentive to repair goods after the expiration of the legal warranty, often replacing products when defects have arisen.
The European Union, with the latest approved proposal, therefore aims to make it easier and also cheaper for consumers to repair goods rather than replace them entirely. The proposal aims to ensure more repaired products by giving consumers easier and cheaper options to repair products that are technically repairable. Thus of thus allows repair even after the expiration of the legal warranty or when the good no longer functions due to wear and tear. Examples of these types of goods include vacuum cleaners, larger or smaller household appliances, and hopefully tablets and smartphones.
The European Commission's goal is to promote and facilitate repair and reuse, because "Today we propose to make repair an easy and interesting option for consumers", as declared Frans Timmermans, Executive Vice-President for the European Green Deal. 
With the recent proposal, it introduced a new protection both for the consumer and the environment. Indeed, a new "right to repair" is specified, which is granted to consumers both within and beyond the legal warranty.
Thus, under the legal warranty, sellers will be required to offer repair, except in cases where this proves to be more expensive than replacement.
In addition, beyond the legal warranty consumers will be granted a range of hitherto unknown rights and tools that will make repair easy and affordable.
In particular, the proposal provides the following measures: 
-consumers will see the right to demand that manufacturers repair technically repairable products in accordance with EU law, when it comes to products such as washing machines or televisions. This right will ensure that consumers can always turn to someone when they choose to repair products. Also on the production side, this measure is intended to encourage the development of more sustainable business models;
– producers will be obliged to inform consumers about the products for which they are obliged to provide repair;
– it is intended to set up an online platform for repair, to enable a connection between consumers and repairers and sellers of goods subject to reconditioning present in their area. Through this platform it will be possible to search by location and quality standards, thus helping consumers find attractive deals and increasing the visibility of repairers;
– it will be realized a European repair information, which consumers can request from any repairer and which is intended to ensure transparency of repair conditions and price and make it easier for consumers to compare repair offers;
-a European quality standard for repair services will be developed to help consumers identify repairers who are committed to superior quality. This "easy repair" standard will be open to all repairers throughout the EU who wish to commit to minimum quality standards, based, for example, on the durability or availability of products.
Repair is often considered complex and difficult by consumers, who precisely for this reason prefer to avoid it and decide to replace the entire product. 
With the "right to repair" initiative, on the other hand, it is intended to achieve a model in which there is sustainable consumption throughout the entire life cycle of a product. The ultimate goal is to also formally guarantee a genuine "right to repair" throughout the European Union.
The "right to repair" proposal was announced in the new consumer agenda and action plan for the circular economy. It addresses barriers that discourage consumers from repair due to inconvenience, lack of transparency, or difficulty in accessing repair services. It therefore encourages repair as a more sustainable consumption choice, which contributes to climate and environmental goals under the European Green Deal.
This initiative adds other instruments that pursue the European Green Deal's goal of sustainable consumption through repair. On the supply side, the Regulation on the Ecodesign of Sustainable Products promotes the reparability of products at the manufacturing stage. On the demand side, the proposed Directive on Consumer Empowerment for the Green Transition empowers consumers to make informed decisions about what to buy. This proposal strengthens the demand side by promoting repair at the after-sale stage. 
In addition, the Environmental Self-Declaration Verification Initiative, also adopted on March 22, will make it easier for consumers to support the green transition through their purchasing choices and prevent companies from making misleading claims about the environmental merits of their products and services. This initiative also complements the proposal on consumer empowerment for the green transition, which sets the horizontal framework against greenwashing.
In general, however, the proposal and all related measures are intended to contribute to the ambitious goal of making the European Union climate neutral by 2050, and this can only be done if consumers and businesses also consume and produce in a more sustainable way. 
The proposal brought forward by the Commission still has to go to the European Parliament and the Council, which will end the process with the official and final adoption of the proposal.