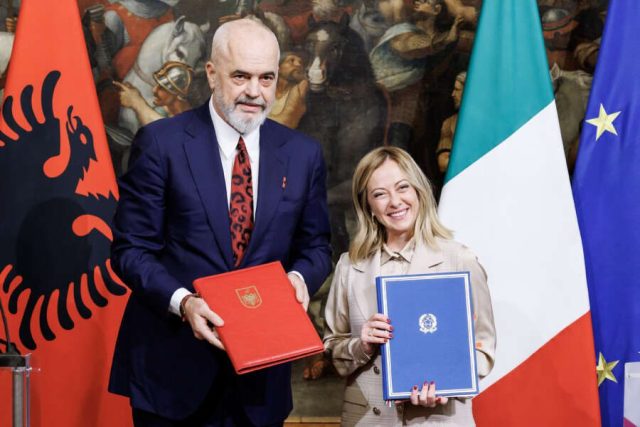 Italy and Albania have recently announced the conclusion of a memorandum of understanding on the management of migration flows. The agreement was made public during the visit of Albanian Prime Minister Edi Rama to the Italian Prime Minister and leader of the European Conservatives Giorgia Meloni. The meeting was held in Rome.
President Meloni has emphasized how much this agreement represents a strengthening of the friendship between the two nations.
The objective of the agreement
The agreement aims to combat and prevent trafficking in human beings by welcoming those who have a right to protection. Importantly, the agreement will apply to migrants rescued in the Mediterranean by Italian ships such as those of the Navy or the Guardia di Finanza. Excluded from the agreement are those who arrive directly on the coast or the Italian territory.
Giorgia Meloni said that Albania will make available some areas of its territory to allow Italy to build two structures for the management of illegal migrants. These facilities, located in Albanian territory, can accommodate up to three thousand people, providing the necessary support for asylum applications and repatriation procedures. The jurisdiction within these centres will be Italian. The port of Shengjin is the one chosen as an area for the procedures of disembarkation and identification. Detention centres for returnees, however, will be set up in a more internal area. The two structures should be operational by spring 2024, offering a concrete solution to the migration problems faced by the two nations.
Albanian Prime Minister Edi Rama said during the joint press conference that Albania is ready to help Italy in the fight against immigration, underlining the close ties between the two countries. He said that, although Albania is not a member of the European Union, the nation of which it is Prime Minister feels to all intents and purposes European and wants to contribute to the management of migration challenges. Rama also explained that he would not have made this agreement with any other state outside of Italy, he criticized the European Union on immigration: "We can help and help manage a situation that, everyone sees, is difficult for Italy. When you enter Italy, you enter Europe, the EU, but when it comes to managing this entry as an EU we know how things go".
Meloni has claimed the Italian action and the friendship with Albania underlining the important commercial, cultural and social cooperation that has always united the two countries. She has also explained that this is but the last piece of a strong partnership.