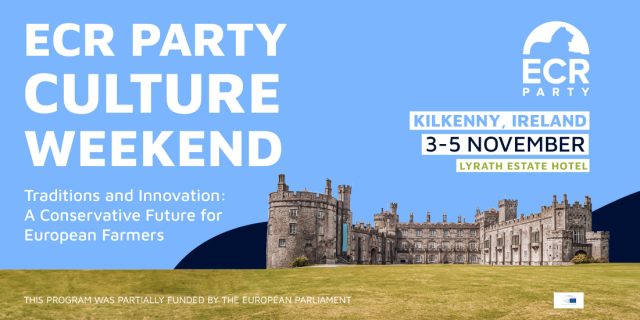 Discussing the Future of European Farmers in Kilkenny from November 3rd to 5th
The ECR Party Culture Weekend returns, an initiative that has touched on various themes in exceptional European locations. Following events in Split, Sofia, Jerusalem, Ischia, and Scilla, it's now the turn of Kilkenny, Ireland.
Ireland holds significant importance for conservatives and Europe. First and foremost, it has a close and often contentious relationship with British culture, which essentially laid the foundations for conservative thought. Yet, it's also a land with strong Christian roots and an exceptional commitment to economic freedom, evident in the numerous internationally renowned companies that have chosen Ireland as their European base due to favorable economic conditions.
Ireland is also vital because it marks a geographical boundary of Europe. It's the only European Union country that has not joined the Schengen area and experiences a border situation between the Republic of Ireland and Northern Ireland, a constituent nation of the United Kingdom. This border represents a divide in how the vision of Europe is perceived.
Politically, Ireland traditionally features two center-right parties vying for national governance: Fine Gael (liberal conservatives and Christian democrats, part of the EPP) and Fianna Fáil (Irish nationalists, affiliated with the RE group). However, there is no classic conservative voice, no ECR-affiliated parties, and, notably, social democratic and republican left-wing forces such as Sinn Féin (GUE/NGL) are gaining strength, marking a different scenario from the vast majority of European countries.
Therefore, an ECR event in Ireland seems essential, particularly given the chosen theme: "Traditions and Innovation: A Conservative Future for European Farmers." The discussions will revolve around sustainable policies for the prosperity of European landscapes, covering topics such as livestock care, agriculture, and inevitably, the green economy.
The challenges and opportunities presented by this delicate sector will stimulate debates that could reignite the Irish conservative movement. Prominent politicians and intellectuals from across Europe, as well as business leaders and industry experts, will participate.
The choice of location, Kilkenny, is also well-considered. It's a city with a strong European character, known for its local products (its beer is among the world's most esteemed), architectural treasures like the Castle, the Black Abbey, or the Tholsel, vast natural and agricultural landscapes, and a vibrant nightlife that makes it a tourist attraction.
Discussing agriculture, primary sectors, and landscape preservation in Ireland is a conscious decision to engage in a place where these resources are excellently conserved. This example can be applied elsewhere—an environmentally conscious approach that conservatives aim to promote.
The three-day program in Kilkenny includes arrival and accommodation at the Lyrath Estate Hotel on Thursday, November 3rd. This magnificent location comprises a 17th-century mansion surrounded by 170 acres of Irish natural landscape, featuring picturesque lakes, historic gardens, and forests in countless shades of green.
On Friday, November 4th, conferences on the theme and a networking dinner among participants from across Europe will take place to exchange experiences and proposals. On Saturday, November 5th, participants will depart, with an opportunity for another visit to the city of Kilkenny.
Two delightful outings are also planned: on Thursday, November 3rd, there will be a nighttime visit to Dublin, experiencing the atmosphere of a European capital where entertainment and culture are key. On the morning of Friday, November 4th, a visit to the Irish Parliament will allow us to observe Irish institutions in action. This is a significant opportunity for European conservatives.